What Does the Vaporesso Luxe Q2 Pod Vape Kit Have to Offer?
With its cutting-edge vape technology, the Vaporesso Luxe q2 pod kit offers something unique to the world of e-cigarettes. This robust pod system packs quite a punch for such a compact pod device, bringing together the convenience and ease of pod vaping with the advanced features of high-end devices.
Delve into the Luxe q2's features, and you'll see why it has become one of the most popular innovative Vaporesso kits. It's much more than just another kit. The Luxe q2 offers COREX heating technology for ultimate flavour and has a 48-hour lifespan thanks to its 1000mAh battery. Coupled with its rapid charging capabilities and sleek leather design, the Luxe q2 is truly a symbol of modern vape advancements.
But the Luxe q2 is more than just its features. Its sleek design is both ergonomic and leak-proof, striking a balance between aesthetics and practicality. This forms a large part of the device's popularity. Its usability is also clear from its ease of setup and the variety of vape kit accessories available.
In short, the Vaporesso Luxe q2 pod kit is a perfect match for those seeking a versatile, high-quality vaping experience. It epitomises the best of Vaporesso technology, offering a potentially perfect partnership for your vaping journey.
How Does the Vaporesso Luxe q2 Handle Vaping Experience?
The Luxe q2 handles vaping with ease. The adjustable airflow systems provide a tailored experience to match your preference. The device's replaceable q2 pod bolsters vaping sessions. The q2 pod not only offers MTL and RDTL vaping but also assists in seamless vaping experience on-the-go.
The real magic of the Luxe q2 lies in its e-liquid compatibility. Whether you fancy nicotine salt or freebase e-liquids, this device caters to all with no fuss. The nicotine delivery method is simple and efficient, giving users a comfortable vaping experience.
Now, what about vapour production? The Luxe q2 leaves no stone unturned. Expect smooth vapour production with this advanced vaping device, enhancing your vaping sessions tenfold.
Thus, if an on-the-go, efficient vape device is on your list, the Luxe q2 certainly earns a spot. Remember, when it comes to advanced vaping devices, the Luxe q2 defines optimal performance.
What Makes the Vaporesso Luxe Q2 Pod a Stand-Out Device?
When shopping for vape kits, the Vaporesso Luxe Q2 pod stands out. It's not just another trendy vape kit, it's a quality-built vape kit noted for many reasons. What puts the Luxe Q2 Pod kit under the spotlight is its longevity. The device is a long-lasting vape device thanks to a 1000mAh battery that gives you an all-day vaping Luxe Q2 experience.
The compact e-cig device offers pod device portability, adding to its vast suite of advantages. Its user-friendly design adds to its appeal, particularly if you are a new vaper seeking simple and reliable vape hardware.
Maintenance is a breeze. The Luxe Q2 (like all user-friendly Vaporesso devices) offers easy vape gear maintenance, coupled with a robust build for a durable vaping experience. And here comes the good news for prospective buyers: the Q2 has a high coil compatibility, enhancing its cost-effectiveness and making it one of the most popular vaping kits on the market today.
Next time you look for vape kit convenience and quality, keep an eye out for the Luxe Q2!


Simplicity
The Luxe Q2 pod system is available in 5 very simple, yet elegant colours, all featuring the premium leather embossed grip.
Black
Blue
Blue
Green
Orange

Deluxe Leather
With deluxe upgraded leather material and a better grip, the Luxe Q2 delivers unparalleled comfort and an in-hand vaping experience.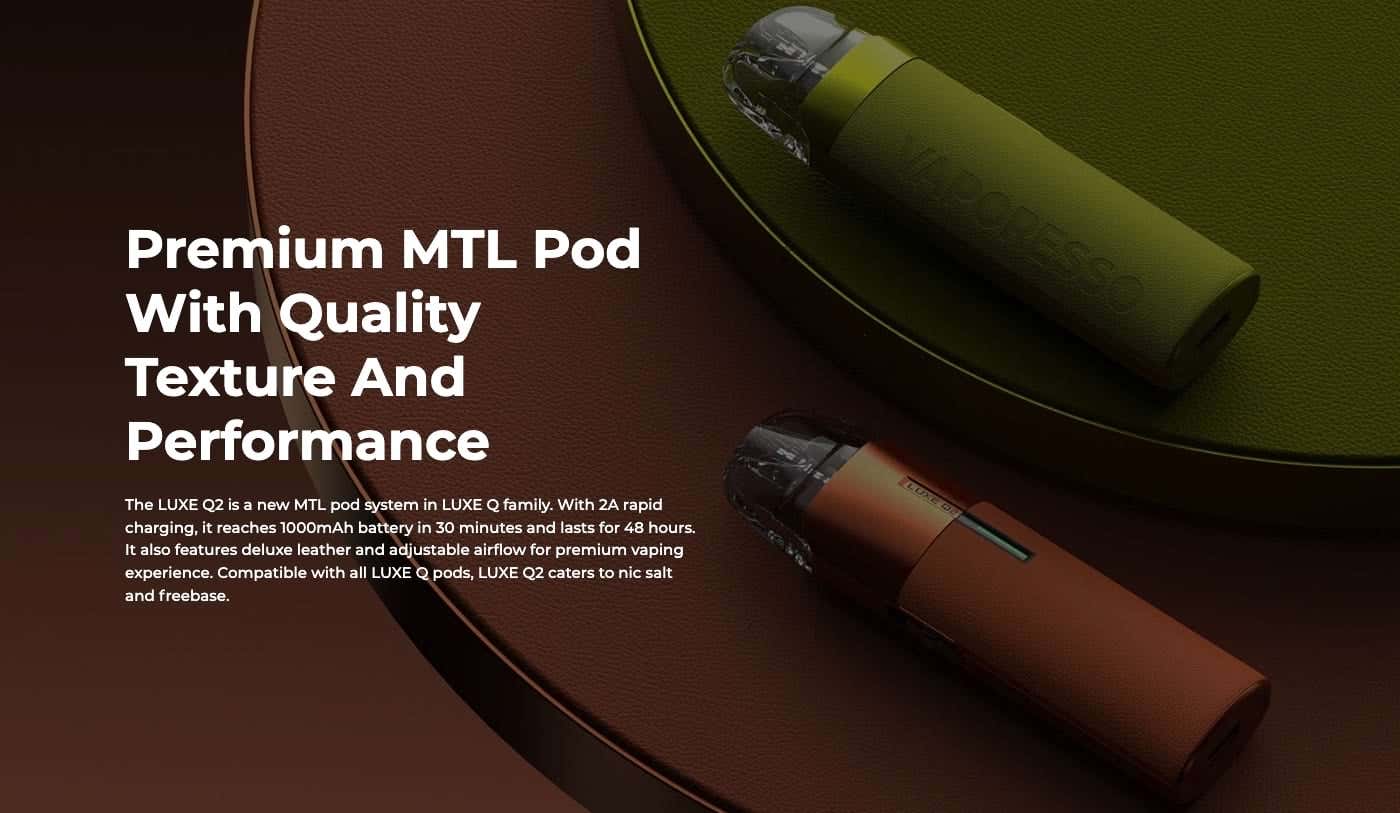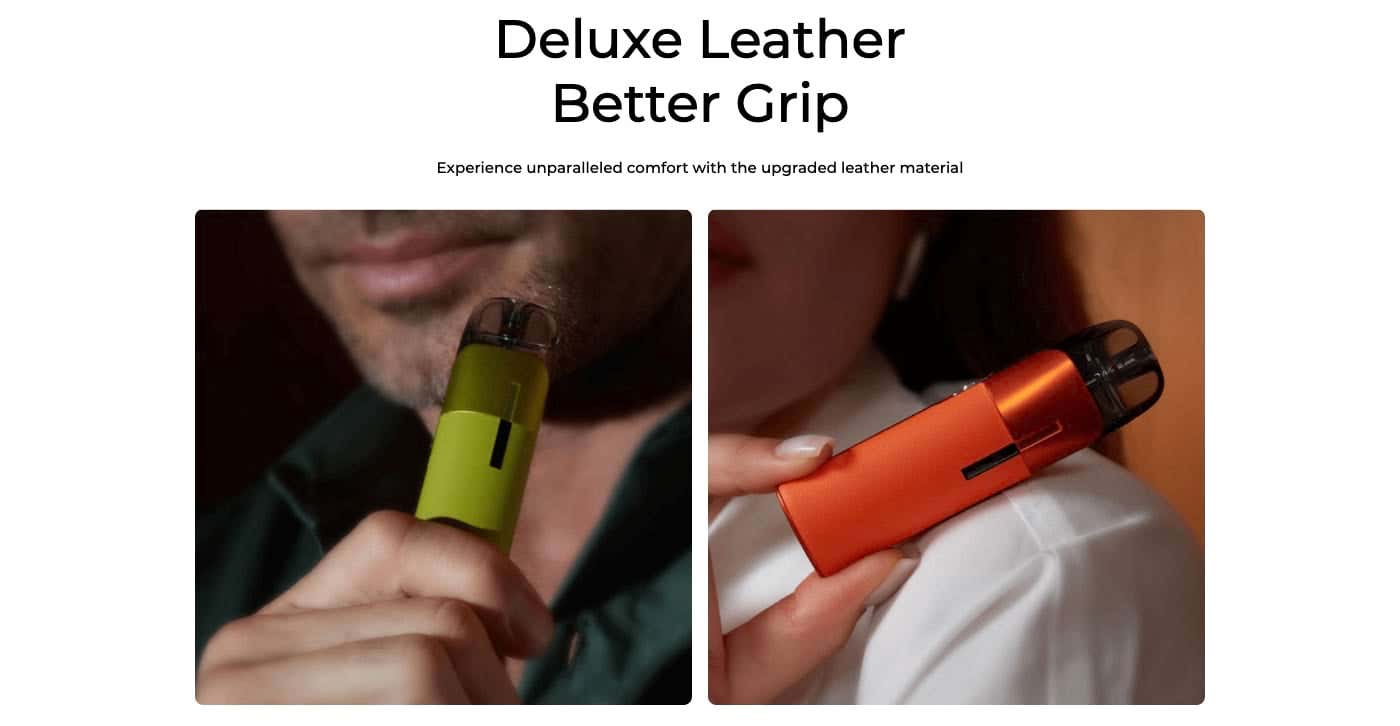 Precision Airflow
The Luxe Q2 has an in-built precision airflow control easily adjusted through a side-slide seamless tab, offering MTL to RDTL vaping experiences.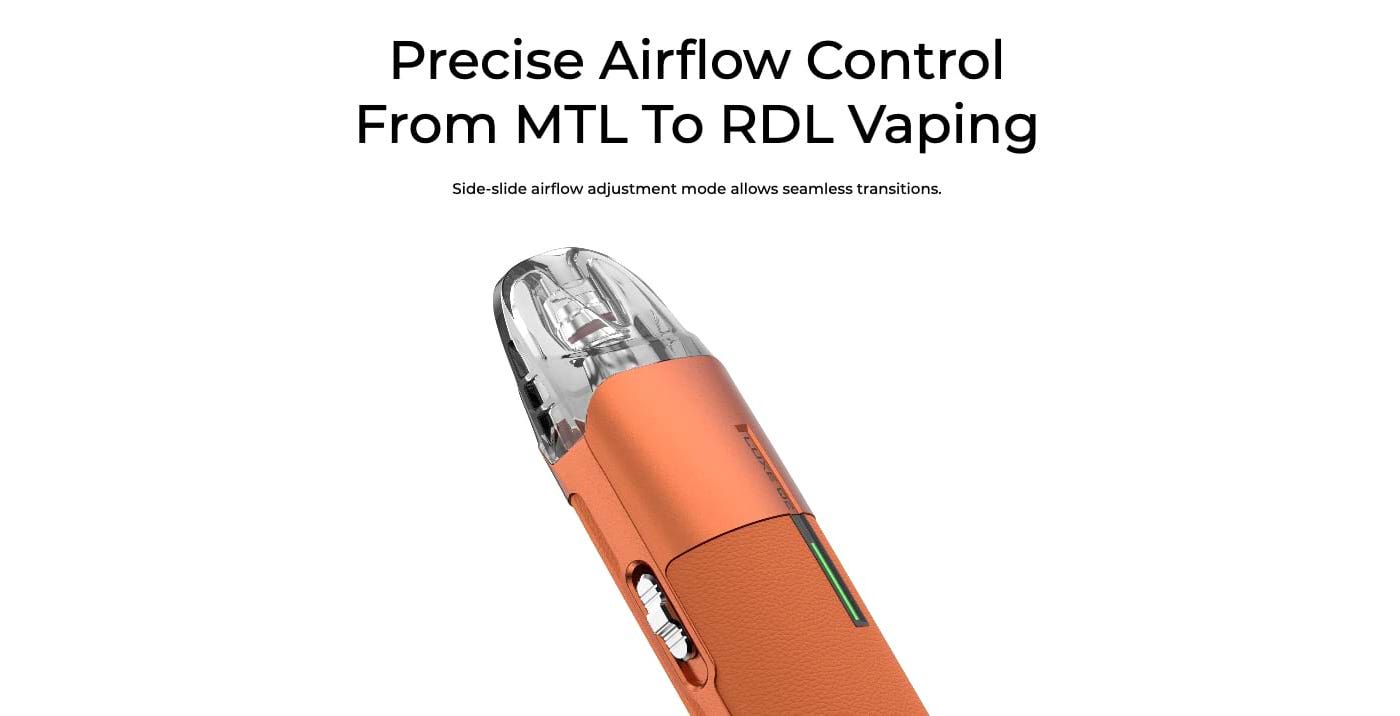 Ultimate Flavour
Using Vaporesso's innovative COREX heating technology and reliable AXON chipset, the Luxe Q2 pod system delivers the ultimate in flavour delivery and unmatched enjoyment, proven to last up to 50% longer with continuing instant flavour explosion.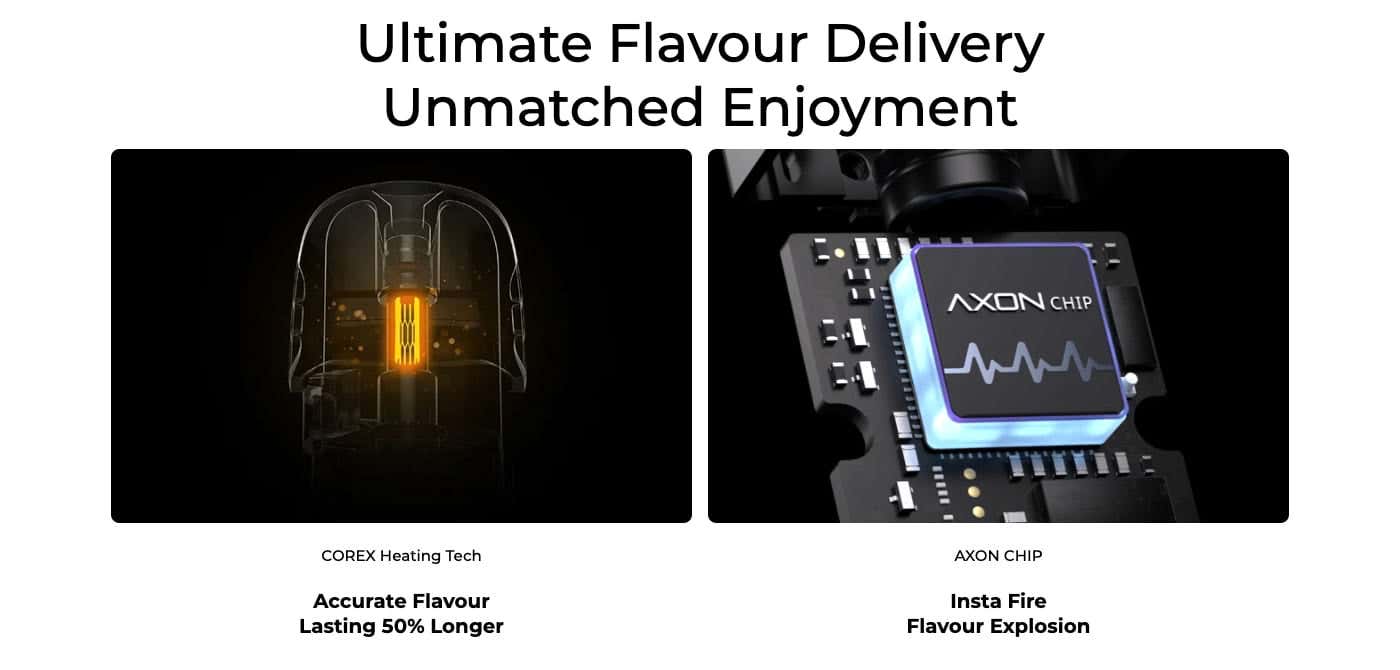 Rapid Charging
Running out of battery is every vaper's worst nightmare, but with the Vaporesso Luxe Q2 device, be rest assured that should this happen, you can quickly charge back up to 100% within 30 minutes, bringing your device back to life for up to 48 hours of vaping from its 1000 mAh internal high-density battery.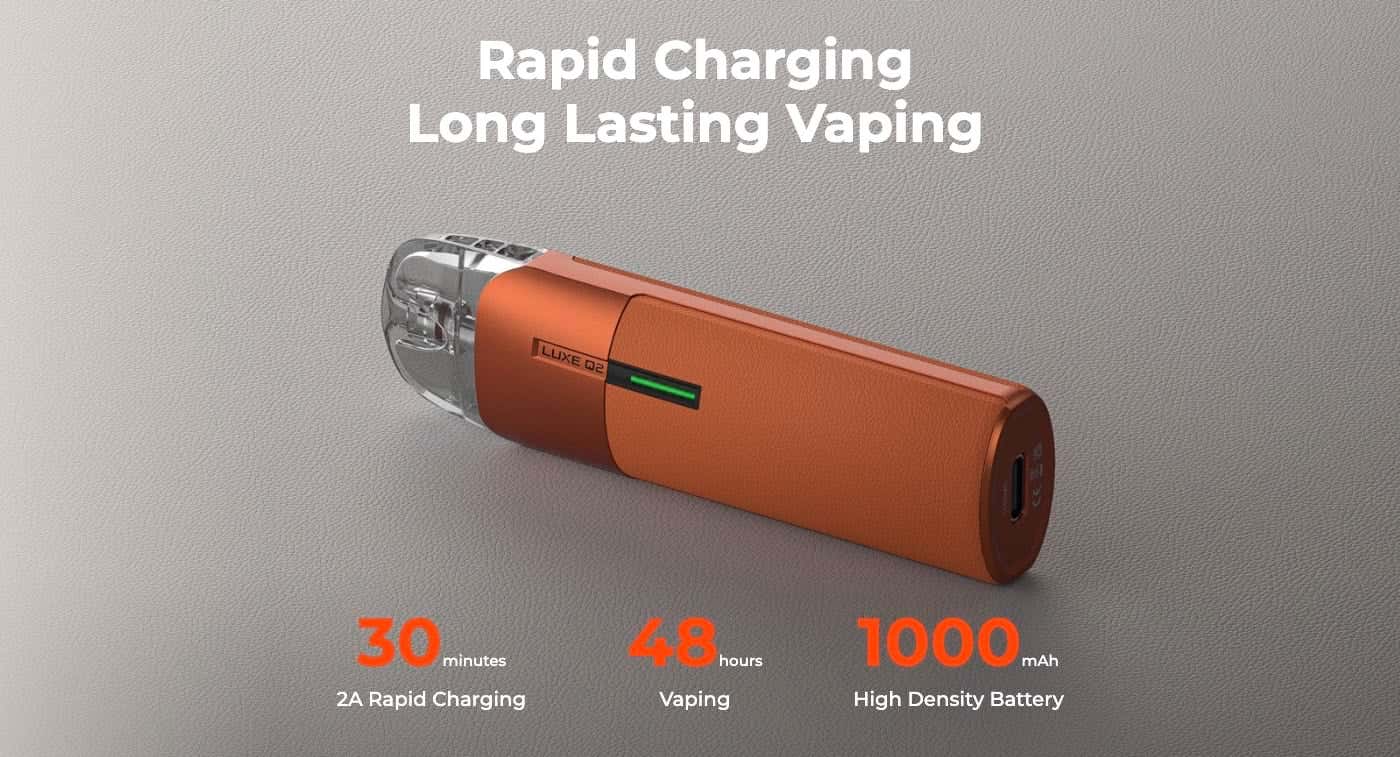 Luxe Q Pod Range
The Luxe Q range of four pod options is compatible with Luxe Q, Luxe Q2, Luxe Q2 SE and Luxe QS pod vaping devices, offering RDTL and MTL vaping.
0.6Ω Mesh (RDTL)
0.8Ω Mesh (RDTL/MTL)
1.0Ω Mesh (MTL)
1.2Ω Regular (MTL)
Vaporesso's SSS leak-resistant technology delivers an anti-leaking design, sealing in the e-liquid and preventing it from leaking while allowing the coil head to efficiently saturate through use.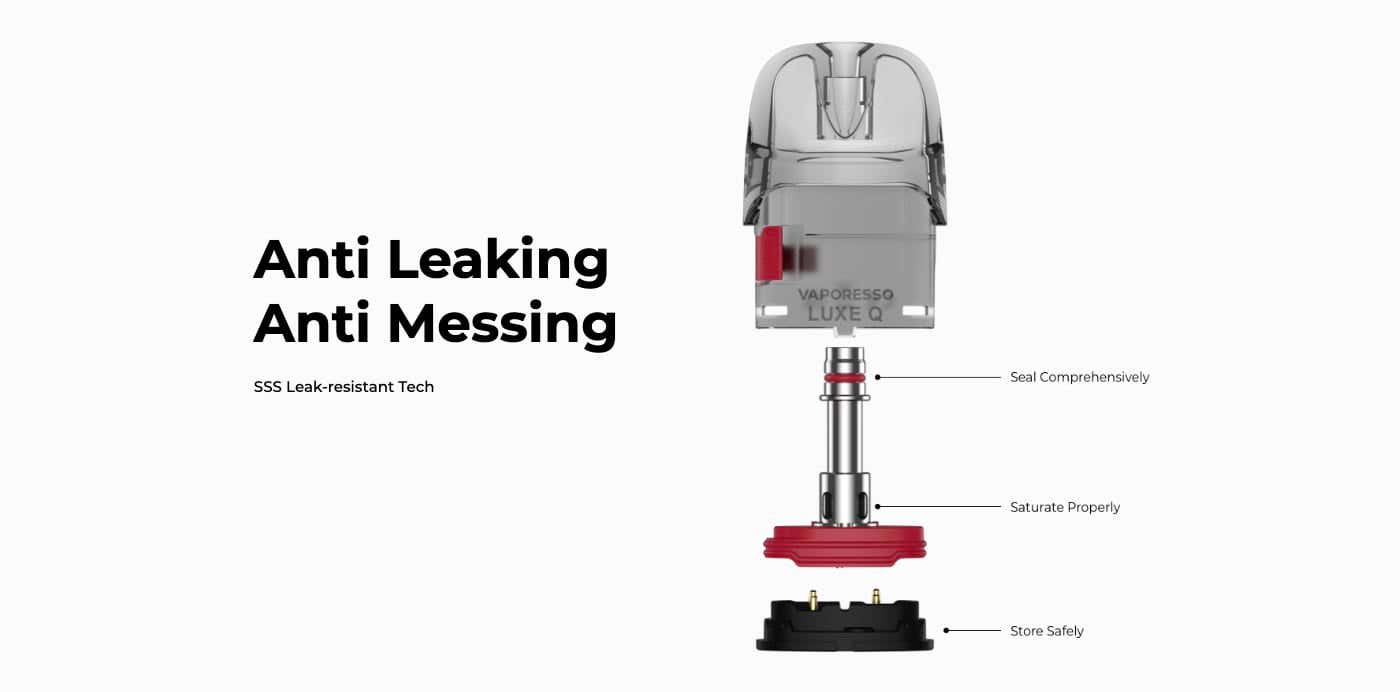 Puffs
Vaporesso's integrated pod technology provides more puffs with fewer refills from the 2ml capacity Luxe Q series of pods.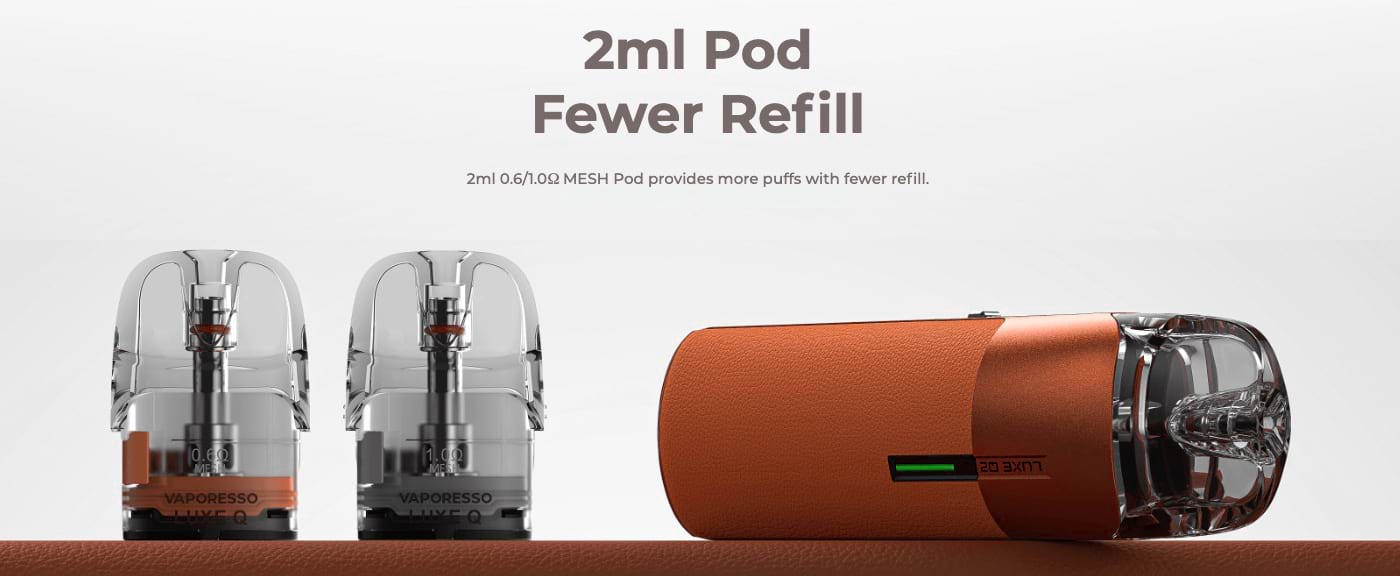 Specifications
Dimensions: 26 x 18.6 x 96.8mm
Pod choice: 0.6Ω, 0.8Ω, 1.0Ω and 1.2Ω
Charging: Type-C, 2A
Battery Capacity: 1000 mAh


What's in the box?
Luxe Q2 battery device
1 x Luxe Q 0.6Ω Mesh Pod
1 x Luxe Q 1.0Ω Mesh Pod
1 x Type-C USB charging cable
User Manual / Warranty Card